Weddings are larger than life events. Everyone is hoping that decoration would be phenomenal. As we all know, wedding decorations are very detailed and time consuming, but with the help of balloons, you can just minimize the time, and make the wedding look amazing. You can literally use wedding balloons anywhere on the occasion, but let me tell you some way to make them look great.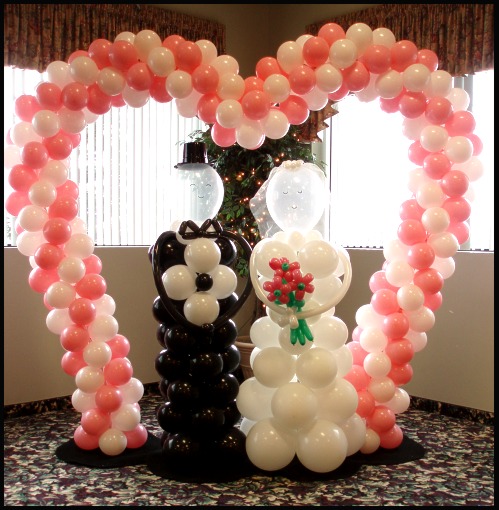 1. You can cover your entry gate, with red or pink balloons. The main entrance will look really fresh and nice. By covering them, you're making a great first impression, and create an excitement factor that ceremony is going to be fun.
2. From entrance to the main place of ceremony, you can hang balloons over the head, along with some ribbons. The path will look like a road to heaven, trust me, they look divine and can add some magic to the ceremony.
3. You can use tie them to the chairs and tables, at which guests are going to sit. Common places are at the corner of the table, and on the back rest of the chair. It looks really beautiful and decorative.
4. You can hand everyone some balloons, at the starting of the ceremony, and request them to leave all at once, during the bride and bridegroom commit to each other and take vows. By doing that, you can make their day more special.
5. If it is in a hall, you can write the names of bridge and bridegroom, with the balloons, it will look really nice, and catch everyone's attention. You can also use them around the stage corners.
6. You can hand the couple, some balloons, while taking their wedding pictures. It will look really nice, and they will remember it throughout their life.
7. You can use the balloons to decorate the table, at which you're going to place gifts that table is special, why don't treat it like one?
8. You can use it over the wedding cake, along with some filled sparkles, and pop it up when the couple is about to cut the cake. Everybody will love it.
9. You can hand kids some balloons, in order to make them play and don't let them spoil the ceremonies with their kiddish activities. You can hand them, just for making their mood a fun, and they will love to play with them.
10. You can make columns and balloons arcs, in order to decorate the wedding. The concept is new and people would love it and talk about it.
Due to versatility, you can use balloons everywhere. They can easily get mingled with anything and increase its beauty. You can use your mind and do many innovative things with balloons at weddings.
They give unlimited opportunity to try something with them. So don't restrict yourself to above mentioned ideas, and try different things, and make the wedding look special for the couple and the guests.