Balloons play a big role in adding charm to any party and also make for beautiful memories with your loved ones. From parties to corporate events, balloons fit everywhere. Kid's birthday parties are incomplete without balloons, but so are farewell parties. You can use some creative balloon themes for parties to bid goodbye to your friends and colleagues. Party balloons are popular as they are available in several forms. Here are some tips for farewell party balloon decorations in Bangalore:
Printed Balloons
The printed balloons are made up of high-quality latex and have printed quotes on them. One can buy them according to the popular themes and occasions. You can also book balloons online from Book my balloons where you will find trendy printed balloons at affordable prices.
Simple Latex Balloons
The latex balloons are plain and available in different colours. Simple latex balloon décoration looks attractive as well as apt for party events. The balloons are available in all shades of the rainbow so that you can choose to combine different colours or put them all together to decorate as per requirement.
Foil Balloons
Foil balloons are made up of standard quality latex which is similar to plastic. They are generally available in large sizes and various shapes. One of the advantages of buying foil balloons is that their colours do not fade away in the sunlight.
Shiny balloon
The gloss-finished balloons are comparatively expensive but look elegant and are a source of attraction in any event due to their metallic lustre which makes them eye-catching. These are the most suitable balloons for party decoration, especially for farewell parties, college events, or valentine's parties. These balloons have a shinier surface than latex balloons and an added benefit of customisable shape, colour, and size.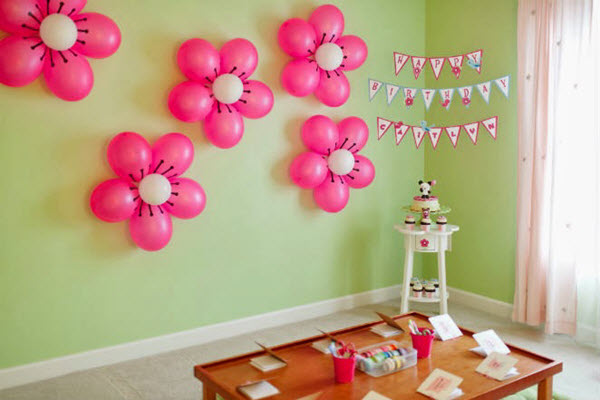 Large Balloons
These are giant balloons with cartoon characters imprinted on them. They are popular with kids and used as décor in creative balloon themes for parties.
Shaped Balloons
The shaped balloons are usually used in theme parties like Valentine's Party will have heart-shaped balloons while circular and oval balloons are more commonly used for birthday parties and other events.
Apart from birthday parties, balloons add charm to many events like anniversary parties, baby shower events, farewell parties, reunions, Christmas parties, and many other events. Balloons in baby showers are specially designed for babies and mothers that can be of many shapes like a teddy bear, baby girl, or boy-shaped and heart-shaped.
Be it a birthday party or farewell party balloon decorations in Bangalore, now you need not look for a store in your neighbourhood. Instead, you can easily book balloons online from bookmyballoons.in or visit us for all your party supplies. You may also choose to hire a professional decorator to provide services as per your budget and theme.