Balloons are the life of any décor for most events nowadays. Whether it's for indoor or outdoor parties, balloon decorations are eye-catching and an inexpensive way to celebrate special moments. If you want to make any occasion extra special, all you have to do is get super creative with different types of balloons decoration.
Balloon decorations have changed a lot with the times, with a huge variety of balloons available online and offline markets. This variety has played a huge impact on the creativity of balloon decorators as they make statement design pieces at all kinds of events. From bridal and baby showers to birthdays and weddings, most events are now being decorated with stunning balloon décor. Here are a few creative balloon decoration tips to start getting ready for your next party:
Frame Balloon Decoration
Originally the frames were created using floral themes for backdrops at events. Currently, balloons on frames are replacing the flowers and turning out to be one of the trendiest forms of decoration, adding up to the modern vibe. The balloon frame is widely used for baby showers as well as for wedding ceremonies like Haldi, Mehndi, and Sangeet.
Mascot Balloon Decoration
Mascots are quite popular for birthdays, sports, and corporate events. A professional balloon decorator is well versed in creating different Mascots, simply out of multiple balloons, giving the event a different look. Instead of hiring one person to dress up like a mascot, you can create multiple balloon mascots and place them at different spots for better brand recall at corporate events and additional fun at sports and birthday events.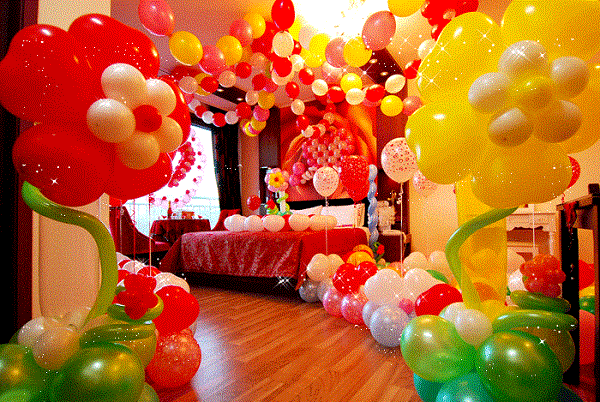 Commercial Balloon Decoration
Balloons attract attention and make for a great option to advertise your business. Nowadays many varieties of balloons are available to be used commercially such as Air, Helium, Sky, and Printed Balloons for advertising and branding a company. Balloon advertising in Bangalore has become a popular method of advertising to promote an event or product since commercial use of balloons is also known to be a cost-effective and creative way of having a brand recall for consumers.
Generally, many creative balloon decorations are being used at events like balloon arches, columns, garlands walls, and backdrops. The unique balloon arch decoration in Bangalore is very popular along with balloon characters, table centrepieces, LED or glow stick balloons, etc. The sky's the limit when it comes to decorating with balloons!
Whether you're looking for simple balloon ideas for your home or for creative balloon decorators that can make more advanced designs, we've got you covered at Bookmyballoons. We don't just deliver party supplies but also provide a variety of custom-made balloon décor as per your requirements. You can also call 8088880011 or 8088880022 for different types of balloon decoration as well as our latest products and services. Visit us!