For most baby showers, balloons are one of the most elegant ways to decorate a venue. A few creative ideas can easily transform balloons into elegant masterpieces like your adorable baby shower decorations.
Baby shower balloon decoration at home is one of the cost-efficient ways to design. The balloons are available in a variety of shapes, sizes, and textures. Given below are some best ways that you can use balloons for baby shower decorations.
Customised Printed Balloons
As a unique way to celebrate your happiness as you wait for the baby's arrival, you can take a professional's help to print the 'baby' and 'last name' of your kid over the balloon. You may choose different shapes and colour of balloons depending on your chosen colour scheme.
Use Confetti and Other Material
Various size balloons with colourful confetti fillers set a cute vibe for the baby shower party. Inflate the balloon after filling glitter or confetti inside. You can use animal and character-shaped balloons with confetti to make it attractive to the young guests. Offer the confetti balloon bunches as a baby shower balloon bouquet to all the kids.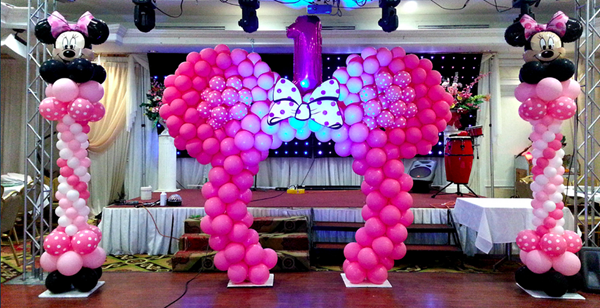 Fruit-Shaped Balloons
Fruit-shaped balloons are the cutest ones available and can be used at a baby shower as an additional fun element for kids who would love this idea. Using fruit-shaped foil balloons makes the décor look good and vibrant once done.
Letter-Shaped Balloons
Use letter-shaped balloons to create the initials or names of the parents to be a part of the baby shower party decorations. Letter foil balloons are best for this kind of décor. You can hang the balloon names or messages over the center table so that it is easily visible to everyone attending the baby shower.
A Plan Giving Return Gifts with a Balloon Tied to Each Gift
The best way your guests will remember your party is when they take the theme home in the form of a gift. You can create an exceptional effect by arranging return gifts by attaching a cute balloon with every return gift. You can also choose to print baby feet as a cute token of love for the guest.
Here are the 5 decorative tips for a great baby shower. Welcome the baby with an open heart. Get in touch with www.bookmyballoons.in or visit us for a baby shower balloon decoration service in Bangalore. We will be happy to help you with our expertise in implementing decorations of your choice with perfection and on time for baby shower balloon décor ideas and other event-related services.