Baby Shower Balloon Decorative Ideas
Balloons are one of the profitable ideas to decorate your special occasion in a very cost-effective way. People of almost all ages love balloons because they are cute, colorful, full of energy, and very reasonable way of decorating.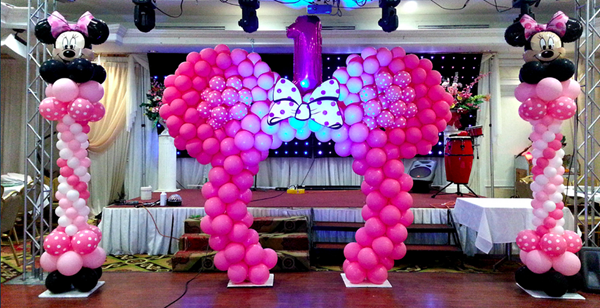 Well, for any baby shower, Balloons are one amongst the most adorable ways of decorating your baby's room, party hall, entrance, desert table, and many other places. Can you imagine a desert table or an entrance without a balloon decoration when you are invited to a baby shower?
Hopefully, not. Balloons aren't costly so you can decorate them and use as many numbers of balloons as you can to decorate ceiling area, party area, and other spaces. There are lots of options available for balloon decoration for any baby shower, we have come with some best ways that you can use to decorate your special day in a very special way. Here we go…
Printing Name Of Your Kid Over The Balloon.
This is one of the best ideas to make your baby feel god and on the top of the world. You can use usual balloons and ask professional's to type the name of your kid over the balloon. You may choose different shapes and color of balloons so that your kid feels one of the blessed kids in the world.
Use Confetti And Other Material.
You can inflate balloon after filling glitter, confetti or any other material that can improve the overall look of a balloon. Different shapes of balloons can be used like shapes of an elephant, Doraemon, Chota Bheem, etc.
Fruit-Shaped Balloons.
You can decorate party area by inflating fruit-shaped balloons. This simply sounds awesome and your kids would definitely love this idea. Although the online world and retail outlets are full of different shapes of the balloon but you can best buy those shapes which your kids love the best. It is their day so you need to make it special for them.
Use Balloons In The Shape Of Letters:
You can create the name of your kid by arranging differently-shaped alphabetical letters of balloons. For example, your kid's name is "Alia", you can order balloons with letters "A","L","I","A" and arrange them according to the name of your baby. When this formation is over, you can hang it over the center table so that it is easily visible to everyone on the baby shower.
A Plan Giving Return Gifts With A Balloon Tied To Each Gift.
You can create an exceptional effect by arranging return gifts in a way that is quite different and unique. You can hang a balloon with every return gift. To make this concept more popular, you can even print the name of your baby as a token of love or the guest himself or herself.
Final Words:
Above are some of the simple to complex ways of decorating your baby shower day in an all-new way. Hopefully, you liked the ideas and implement them to embrace the event in a completely different manner.