One of the colorful ways to add light and spark to your party hall decorations is the use of a various variety of balloons with creative designs. There are many different and creative party hall balloon decoration ideas but is important to know which one is the right one as per the budget and occasion. Read on to first understand the different types of balloons that you can choose to decorate your party hall and then look at some of the creative balloon décor ideas that would surely inspire you.
How to Choose Balloons?
1. Helium Balloons or Not?
Using balloons other than helium is quite an inexpensive and easier way to decorate your party hall. You must remember though that the non-helium variety of balloons is fairly limited, so if you want more decor choices, prefer helium balloons over others.
2. Mylar or Latex Balloons?
The choice between Mylar and Latex balloons entirely depends on whether you are organizing your event indoors or outdoors. For outdoor events, Mylar balloons are preferred.
3. What Should be the Balloon Colour Scheme?
The color selection of balloons is the most important part of the design. The color scheme depends on the occasion, the party hall interiors, and the choice of the host. Balloons come in vivid colors and variety. Examples, Rainbow balloons, two-color balloons, metallic balloons with shiny effects, and much more.
4. How to Inflate Helium Balloons?
For inflating helium balloons, it is better to hire a party hall balloon decoration service in Bangalore that can help inflate all of them for you, or you can buy a helium balloon inflator kit and do it yourself.
5. Does Party Hall Size Matter?
If you are organizing your event in a large-sized hall, then it means you need to inflate more balloons. For this reason, you can opt for Latex balloons as they are cheaper and can easily inflate.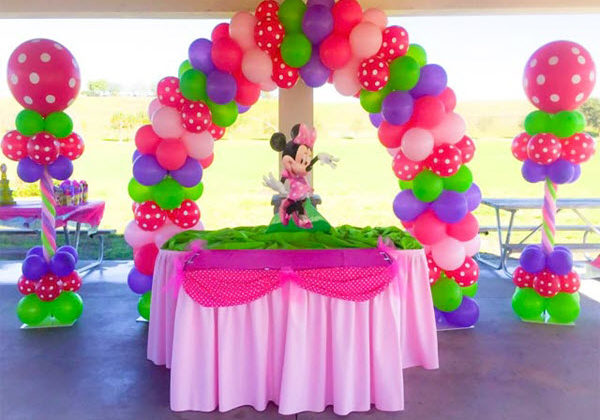 Creative Ideas to Decorate Party Halls with Balloons
1. Use Different Hanging Techniques
Whether you go for helium or non-helium balloons, it's important to figure out how to use them for the party hall balloon design ideas. You can think of different hanging techniques like tying balloons to the ceilings, hanging as a centerpiece over the table of your guests, hanging balloons attached to the return gifts, and much more.
2. Form Different Shapes
Well, most people form bunches and hang balloons in one or the other way. You can form different shapes like
Balloon Arch
Flowers
Streamers
Cartoon characters and much more.
3. Decorate Balloons
Use paints or markers to create impressions and designs on the balloons that best suit your party event.
4. Fill Balloons with Fillers
Fill colorful balloons with different kinds of fillers in order to give mesmerizing effects to the balloon decor in a unique way.
5. Balloon Decoration for a Reason
Use significant milestones like birthdays and anniversaries to celebrate at home or in a hall and go for party hall decoration services in Bangalore for the best results.
The above was a list of the simple yet effective ideas to use balloons to decorate your party hall in a different way. Try these at the earliest and make your day more special.
Get in touch with www.bookmyballoons.in or visit us for party hall balloon decoration ideas or other event services. We will be happy to help you with our expertise in implementing decorations of your choice with perfection and on time.