Corporate events are generally meet and greet events where a simple element like a good décor can lift the mood of your attendees. corporate event balloon decoration ideas, if created with taste and professionalism, can turn your serious conferences and corporate gatherings into an exciting space with a positive vibe. If you are planning cost-effective and elegant balloon decorations, read on for some impressive decoration ideas.
Balloon Arches
A balloon arch decorated at the entrance of your birthday venue will make your attendees feel welcomed. Ensure that the balloon arches are designed in a way to promote your company, brand, logo, products, and services. This balloon arch can also be used as a photo booth to capture moments with your employees and current and prospective clients.
Balloon Centerpieces
For your corporate event, consider using balloons as the table centerpiece. Balloon centerpieces are a good way of decorating your tables since they give out a happy vibe to the place. Balloon arrangements, if done right, make for great balloon centerpieces for corporate parties. Since the arrangements float above the table, the attendees can communicate with each other without getting their view blocked by big centerpieces.
Balloon Columns
Metallic-colored balloon columns are quite trendy these days. You can ask corporate event balloon decorators in Bangalore to create your company brand or logo on the balloon columns and place these columns at the most visible spot. Make the most use of balloons to add some X-factor, thus encouraging more people to be a part of your team.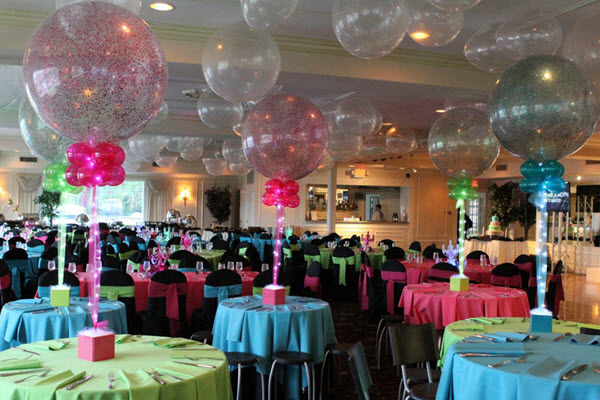 Balloon Tied to the Return Gifts
At most corporate events, the attendees get a return gift from the company as memorabilia to mark the occasion. To make the gifts more special, design customized balloons with the company logo printed on them and attach them as a decorative element to the return gift.
Balloon Décor for Table & Ceiling
Food tables usually are the center point of any event. There's a good chance of a tablecloth getting messy at a corporate event, especially during lunches and dinners. Avoid ruining an expensive table cloth instead, use a printed plastic table cloth and decorate with attractive balloon arrangements that go around the table. Decorate the table and the ends of the runner with some colorful balloons to create an inviting table. Elegant ceiling decorations can always turn any event classy. Create a simple and elegant arrangement that goes well with the table decor for your corporate get-together.
The cohesive corporate event balloon decoration ideas of the table and ceiling décor will transform a simple room into a professional and exciting corporate event.
Try out the above ideas for trendy event balloon decorations in Bangalore. Get in touch with www.bookmyballoons.in or visit us for all event-related services. We will be happy to help you with our expertise in implementing decorations with perfection and on time.