Looking for innovative and creative balloon party decoration ideas? Balloon décor can ensure great fun and excitement at any event provided they are used the right way. You can decorate your home, office, party hall, etc. by using creative balloon ideas that focus on styles or techniques to attract the audience. Here are the top 10 creative ways to use balloons for decoration.
1. Balloons Filled with Confetti's
Confetti balloons are in trend these days, and no wonder they look pretty. Confetti balloons can be a big hit in the hall decoration ideas it is all about being sparkly and happy. Confetti-filled beautiful transparent balloons get used to create a celebratory look. Confetti inside balloons makes it look very fancy.
2. Bun Balloons
For specific parties where the theme revolves around buns, you can arrange for super speciality balloons like bun balloons to be part of the party area décor. Balloon decorators for kids' birthday party will be able to help you create the bun-shaped balloons for the perfect ambience for the event.
3. Frozen Water Balloon Decoration
A unique way to cool your refreshments is to create ice using frozen balloons. Pour water into balloons and freeze them till the time of the event. Slit open the balloons and use the different balloon-shaped ice to decorate the refreshment area or an ice bucket for the bottles.
4. Hot Air Balloon as Centrepiece
Design a miniature replica of a hot-air balloon to create the spirit of adventure at the party. Inflate a medium-sized balloon and use baker's twine to tie your balloon. To a basket below. Decorate the basket with goodies and place the miniature hot air balloon as the centrepiece on the table.
5. Moustache Balloons
As part of theme balloon decoration ideas, you can use balloons in a completely fun way. Moustache balloons are a fancy way of decorating balloons using moustache cut-outs made from tinsel ribbon. Cut the ribbon in the shape of a moustache and stick it on an inflated balloon so that it resembles a man with a big moustache. You may add a bow, to make them look more distinguished.
6. Embellished Balloons
An outdoor-themed party will need some floral feel to it. Use Hawaiian lei or garlands as a tail embellishment for balloons and decorate the party area to give it a refreshing theme. You can easily find leis from party stores.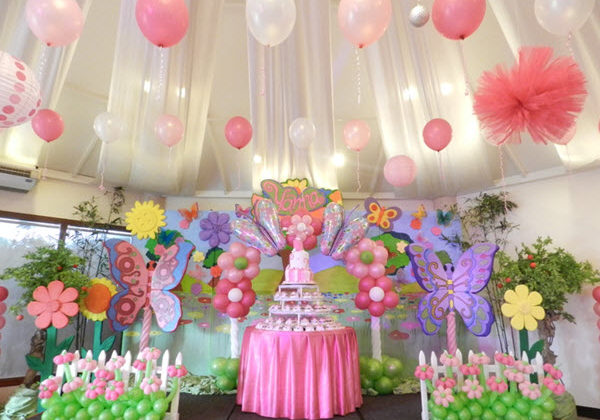 7. Party King and Queen Balloons
For Anniversaries or a couple's parties, implement some fun balloon decoration ideas and use party king and queen balloons to add some glamour element. Inflate balloons and then stick a shiny crown on them. Write or stick the words 'King' or 'Queen', to add a special touch.
8. Chalkboard Balloons
Chalkboard balloons are a very innovative style of balloons that can be used to write a message. Inflate the balloons and then use markers to write on them and express your love and convey your message to your loved ones.
9. Festive Balloons
Festive balloons give the special look to a big event. To create the festive look, simply paste rhinestones to make designs as per the theme and create the balloon decor of your choice.
10. Polka Dotted Balloons
Inflating balloons and then paint or stick polka dots of different colours, shapes, and sizes to beautify your balloon. Add some glitter to its base to make it more attractive. Hang these balloons over the table and surprise your guests with elegance in a cost-effective way.
Given above are the top 10 creative ways to use balloons in a different style. Hope the list helps you to summarize the ways and tricks of using balloons in a completely new way. Get in touch with www.bookmyballoons.in or visit us for all event-related services. We will be happy to help you with our expertise in implementing decorations with perfection and on time.