The demand for party balloons is on the rise. Event organizers used to rely heavily on fancy decorative items to create a stylish décor but given the different types of balloons available in the market today, party balloons have taken over the trend of the day. Party decorators come up with innovative styles and designs that can be made from balloons. Here are a few essential tips for balloon inflation.
Balloons Filled with Treats
One of the most traditional balloon decoration ideas, filling balloons with treats for a birthday decoration is quite fun for kids. Take a big-sized balloon and fill it with different variety of sweets and flavored candies. Inflate the balloon using a balloon pump. Create one big balloon or a bunch of big balloons and tie them in a set. Place the balloons right on the tabletop next to the cake. Once the cake gets cut, ask the birthday kid to burst the balloon with the help of a needle. As the sweet treats fall out, kids love to rake them up during this fun-filled activity.
Helium-Filled Confetti Balloons
Helium-filled balloons offer solutions to create a variety of designs for decoration. Easily inflated using a canister, helium balloons can be filled with confetti to create a sparkling backdrop. Initially, the helium balloons may look hazy for some time but will settle down eventually. One of the helium-balloon inflates tips is filling the balloons with safe helium gas and tying them to the return gifts to make the corner look enticing. A standard-size canister usually fills 30 to 50 balloons to expand to 9 inches while a larger canister can inflate 30 balloons to 11 inches.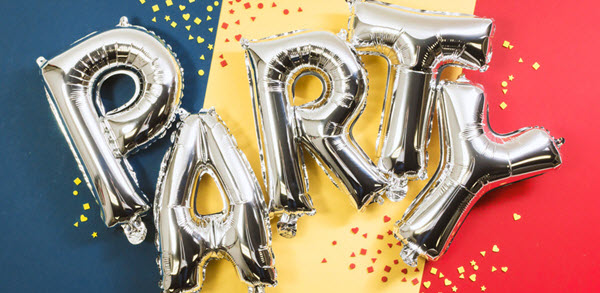 Helium-Filled Glow Stick Balloons
A large canister of helium gas can inflate 30 balloons of 11 inches in size. The large 36inches helium-gas-filled balloons require adapters to hold its mouth to avoid the inside air to escape. Insert colorful glowsticks in the balloons first and then inflate them. to rising to cover the ceiling. The balloons will rise, attach to the roof and cover the ceiling, creating a surreal effect of light in the dim or dark room. A long curly string can also be attached to the balloon to give an illusion of a starlight canopy.
Helium-gas balloons are more expensive than regular air-filled balloons. If you do not want to spend too much on the décor, use an air pump to inflate the balloons. Alternatively, you can order pre-filled helium balloons from party suppliers who do inflated balloon delivery in Bangalore.
Get in touch with www.bookmyballoons.in or visit us for event-related services. We will be happy to help you with our expertise in implementing decorations of your choice with perfection and on time.