The birthdays of colleagues and employees often get celebrated at the workplace. If you create a well-thought-out plan using office birthday party decoration ideas, your co-worker will appreciate the efforts you have put into their party. Here are some great ideas for the celebration:
1. Happy Hours Celebration
Generally, an office day gets very busy celebrating a colleague's birthday party. It is best to plan a happy hour celebration at a nearby place after work. Depending on the number of people joining, reserve a table in advance. Invite the office co-workers in advance via email for drinks so that they are aware of the plan. As part of office birthday party decoration, create a beautiful birthday card or buy one with some relevant quotes for the birthday colleague. Get it signed by all of your teammates at the office in advance. Order a cake beforehand and carry it to the venue with birthday balloons and flowers. Celebrate and make some happy memories with your colleague.
2. Decorate Your Colleague's Desk with Balloons
One of the best ways to celebrate a colleague's birthday is by surprising them or by decorating his or her desk with decorative balloons, party décor, and a tasty cake. Add some unique office gifts like little trinkets and things around the workspace to improve the aesthetic of the place. Not only will they love the office birthday celebration ideas, but they'll also appreciate the improvements you made by personalizing it with something they love.
3. Send Birthday Gift at Home
Nowadays, most people work from home. In that case, sending a birthday gift to the colleagues' residence will make them feel appreciated and special. The gift should look like a beautiful gesture and hence decorating it with a bunch of colorful balloons and a floral bouquet can make their day more special. You can also create a designer balloon set with inflated alphabet balloons displaying the name of your colleague to be attached to the gift.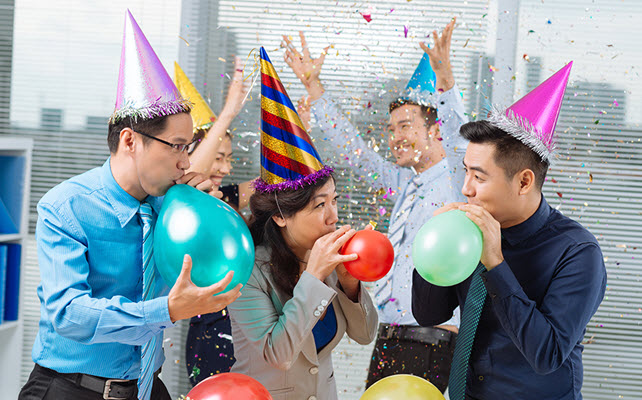 4. Surprise Your Colleague with Gifts
Office birthday celebrations are your way to show appreciation to your colleague. Surprise the co-worker with a personalised birthday gift that displays their hobby or passion. These kinds of gifts will demonstrate an emotional gesture symbolising the bond between the company and team, making your teammates feel cared for and appreciated. Another office party balloon decoration idea to surprise your colleague is to use helium-filled balloons and attach them to the gift to reach your colleagues' desks during the day.
5. Plan Birthday Celebration in Canteen
Sometimes, when you don't have the budget, it's the thought that matters. If you want to celebrate your colleague's birthday on a smaller budget, you can invite everyone to stop by the kitchen or canteen during lunch break to sing happy birthday and wish them. Check with the canteen managers in advance if it's allowed to decorate the area with balloons. Team up with your co-workers to decorate the canteen area with beautifully colored balloons. Organize some local snacks, and if possible, ask your teammates to contribute to the party to let your colleague enjoy and celebrate the day.
Decorating with balloons, streamers, and a banner is an excellent, tasteful way to celebrate a co-worker's birthday. If you need office birthday decoration services in Bangalore, you can get in touch with www.bookmyballoons.in or visit us. We will be happy to help you with our expertise in implementing decorations of your choice with perfection and on time.