The best option for a cost-effective yet glamorous birthday party is to use balloon decorations. Try the 10 super creative ideas for balloons that would help you to throw a grand birthday party within a reasonable budget.
1. Balloon Arches
A balloon arch decorated at the entrance of your birthday venue will make your guests feel welcomed. You can easily create a balloon arc in the same way as the garland of the balloon. The only thing that you can do is to take a flexible thread to add the shape of an arch to it. This balloon arc can also be used near the center stage or the photo booth to give your venue a fantastic look.
2. Balloon Centrepieces
Balloons make for great centrepieces since they'll float above the table and do not block the guest's view. Decorate your balloon centerpieces with accessories like artificial flowers, gum balls, confetti, etc. You can use party balloons design ideas to create balloon bouquets using a bunch of inflated latex balloons or a combination of latex and mylar balloons.
3. Balloon Columns
Colourful balloon columns are quite trendy these days. You can use some nice coloured balloons to create pillar-like structures using sturdy poles to form a balloon column. The balloon columns can be placed at the entrance, across the walls, and also help separate the party area from the rest of the space.
4. Go for Printed Balloons
For an event that's special to your heart, you may need some creative ideas for balloon decorations. You can either choose printed balloons or customize your designs according to the needs and requirements of the occasions you want to decorate. Add a print of a name or a message over the balloon and inflate it. If you want to promote your company brand, you can use helium gas-filled balloons for printing because they stay longer and present your company brand for a longer period.
5. Make a Bunch of Balloons
Creating bunches of colorful balloons is one of the best balloon decoration tips for parties. Different sizes and textures of balloons create the right vibe for the event. You can opt for any soft colour latex balloons to create bunches and use them to decorate every chair and table as well as the party area.
6. Make a Balloon Fall Just Like a Waterfall
Balloon waterfalls are meant for fun parties. It is one of the crazy ways to create a balloon design resembling a waterfall. For this look, first, use a nice cloth and hang it over the roof like a fall. Then inflate as many balloons as you can and place them on cloth. The use of white, blue, and grey balloons will give it a realistic look.
7. Use Confetti to Fill the Balloon
You can fill up transparent balloons with colourful confetti by stretching the mouth of the balloon wide and pouring some in. Inflate the balloons and see them sparkle inside. Kids usually love such birthday parties with balloon decorations, as the confetti bursts out when the balloon pops making it an enjoyable experience.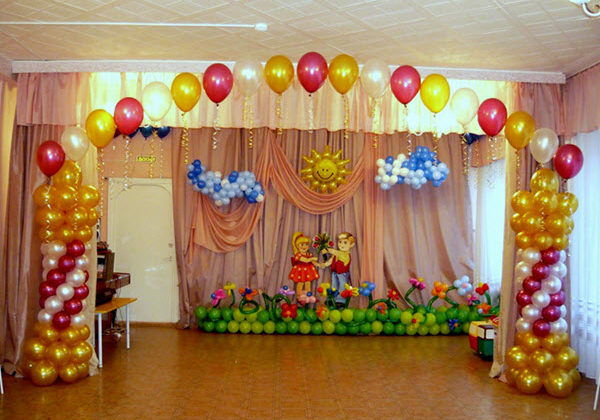 8. Photo Balloons
An interesting way to personalize an event is to use photos on balloons. From birthdays and graduations to weddings and anniversaries, just choose some good photos and stick them over the different coloured balloons. You can also use 4-5 balloons to make an attractive design for the nameplate of the host and the hostess.
9. Painted Message Balloons
If you want a particular message for your guests, use paints over plain white balloons to colour or write the words. You can then choose to hang the painted balloons on the center table or create a balloon wall.
10. Online Search
If you want to find some other ideas, you can search over the internet and find many creative and crazy ideas to use balloons for decoration. You can also use a party decorator who is proficient with balloon decors in Bangalore and will get all your party supplies too.
Above are 10 creative, cost-effective, and crazy ways to use balloons to decorate for your special day. Get in touch with www.bookmyballoons.in or visit us for event-related services. We will be happy to help you with our expertise in implementing decorations of your choice with perfection and on time.