Who doesn't love balloons! Don't we all have childhood memories of running behind balloon sellers? Today, balloons are a great decoration accessory for parties and other events. If you are looking for ways to incorporate balloon decoration ideas, read on:
1. Incorporating Balloons into Your Ceremony
Some people may find it a bit crazy or childish, but using balloons in an event makes so much sense. You can add balloons to your ceremony for an elegant and classy look. Make sure you stick to a color that matches your ceremony theme. Imagine yourself walking down the ceremony with a bunch of balloons. Isn't it a great feeling?
2. Give One Balloon to The Girl of Your Life
I know this sounds silly, but consider proposing to your fiancé with a red balloon – wouldn't it be a romantic idea? To add to the mood, consider giving them a bunch of red and white balloons arranged as a bouquet or adding them with flowers of your choice. You can also showcase your love by writing something on the balloon.
3. You Don't Have to Give Roses All The Time
If you are tired of repeating the trend of giving red roses, change your pattern to balloons. This would be fun and a memorable event.
4. Using Balloon as a Photo Prop
Make your ceremony special by using balloons as props for the photo shoot. Hand over similar color balloons to the bride and groom to give this photo shoot a classy look.
5. Using Balloons as a Part of Backdrop
Photo booths have become very important and a part of every event. You can use creative ways to use balloons for ceremony by decorating a photo booth.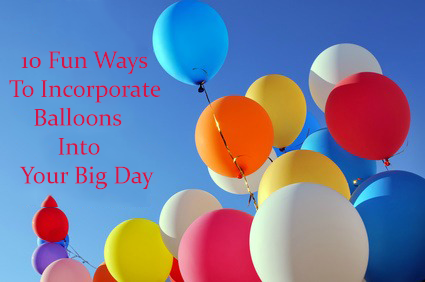 6. Highlighting Sentiments
Use balloons to express your sentiments of love, sorry, congratulations, etc. You can either write complete words or use individual balloons representing single alphabets.
7. Welcome Guests with Balloon
Welcome your friends and relatives from abroad with balloons put together as a bouquet. Or you could use balloons with the person's name tied on a string. Doesn't this sound great?
8. Incorporating Balloons to Write The Table Number of Your Guests
If you have a theme party and want guests to be seated at a pre-arranged table, you can use balloons to highlight which table belongs to which guest. This will simplify your work and add beauty to any party.
9. Do Topping Over Cake
This is unique idea balloons can be used to mention the ceremony date or present emotions and feelings.
10. Car Decoration
Are you looking for wedding car balloon decoration ideas? The best way to make your big day special is to decorate the car you are planning to ferry the wedding couple.
All of these funky tips are easy and very cost-effective. You can select any of these ideas to make your special day memorable. For more information about creative balloon decoration for ceremonies, visit us.