Balloons are great decorative items. It doesn't matter what the occasion is, they will add an extra eye candy to every decoration. They play important role in weddings. You can use them anywhere in weddings. I could just tell you 100 ways, in which they can be used as decorations, but let discuss the 5 most used, creative and popular ones. They can make your wedding, unforgettable.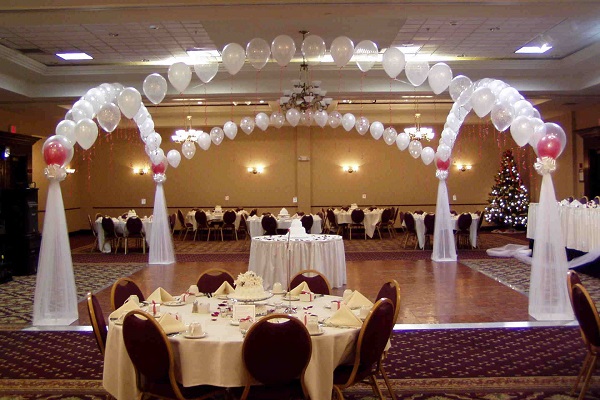 1. The main entrance of the wedding ceremony should always be creative and beautiful. You can use red or pink balloons, all over the entrance gate, to make it special. The main carpet, through which the guests enter, you can tie balloons, over it, to the shed area, above the carpet. It looks really good, and guests can hardly afford to ignore them.
2. The tables, which have eating items on them, you can just tie balloons to them, in order to enhance their beauty. To the table, which has wedding cake, you can tie on the sides of it, with ribbons. You can also tie them to the chairs and lamps. Basically, you can tie it on every single item. You just have to decide which one and how you're going to do that. But don't just do it over the bridge.
3. The place, where main wedding ceremony is going to be held, I mean, where bride and bridegroom is going to sit, you can hang balloons, by needling them with the thread, over them. It will look way beautiful and classy. They're going to love it. You can also tie them to the pillars which are around them. Red or pink balloons with ribbons will serve the purpose.
4. At the entrance, where the title of names, for e.g "X weds Y" is there, you can add balloons all over it, covering the entire portion of the title, but not names. They're the first thing, a guest would see; try to make it as beautiful as you can. I am telling you, they're going to talk about it, once they get into the ceremony.
5. The place, where all the gifts are going to be placed, is an important table. You can't just leave it like that. Try to make it classy, by teeing balloons on the square corners. You can also tie it on the face center of the table. Don't leave the legs as it is, also tie to it. The table will look worth placing all the gifts, and will add extra beauty to them. A wedding is a very huge canvass for balloons. You can use them in it wherever you like.
All you have to do is, looking for the places, at which, they will look beautiful and distinct. Decorate the whole place, with them, guests would love it, also, they will look great in the wedding photographs. Don't forget to gift everyone bunch of them while saying "thank you", at the exit point. It will look generous.