Balloons have been associated with happy, whimsical events, fun and others then why not associate with wedding day? Here is a quick look at some of the funky ideas for using balloons for your wedding celebrations:
While many of us have never thought of using balloons for your wedding vows, it is true that they can add a touch of whimsy to the event making it look classy, funky and colorful. Use one color balloon theme for your wedding palate and decorate the entire hall with the same. Now imagine the bride and groom walking down the aisle with numerous balloons and all the guests sitting on balloons tied to their chairs!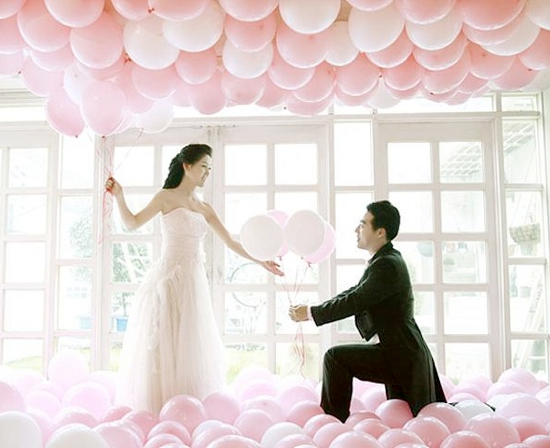 2. Give One To Your Flower Girl
Will not it look great if your ring bearer or flower girl carries a big collection of balloons with herself with message – Here comes the bride or Groom to give it a special touch? They will also give those little tots a good time throughout the event and all the guests will be happy throughout the wedding function.
Most of us are used to typical rose petals being thrown at the newlywed couples when they walk out of the ceremony and if you want to do something new and unique then you can find many balloon decorators in Bangalore. Just hand over them balloons and ask them to release in air before the couple leaves bidding them bye.
Show off your color palette of wedding with some coordinating and contrasting for your bridal party to be hold on. Sticking to one color is best for sophisticated and monochromatic. Special balloons are available in the market that can make you look just so extraordinary.
5. Reception Table Numbers
There come giant numbered balloons in different shapes and sizes. They are sure to make an impact when guests walk into the ceremony finding their table numbers being waved through some balloons. Creating a balloon chandelier is also an amazing idea.
Bring on some unique twist to your cake topping with balloons. Yes, that too is possible. Bringing some small sized balloons and asking the cake makers to decorate it with some balloon topping will add some funky and lively touch to your cake as well as the entire ceremony.
The very traditional and most popular method of incorporating balloons within your wedding ceremony is to decorate your car with them. You can hang them in the tail of car and then the newlyweds can get off in a fun way for their new life.
Welcome your guests in an all new way through this beautiful idea. Try out to tie their escort cards to the end of thread of balloons and ask them to find their own personal balloons. This will make them feel interested and create a fun element into the party. Once found they can tie it to their chairs and sit for further processions.