The inimitable charm of balloons has been associated for a long time with the happy, joyous, and fun element of the wedding. The versatility, affordability, and adaptability of balloons have made them the most popular choice for wedding balloon decorations in Bangalore. Here is a quick look at some of the best wedding balloon decor ideas:
1. Ceremony Decor
The thought of using balloons for your wedding décor may not occur at first, but if you plan to add a touch of whimsy to your ceremony décor, balloons are the way to go. You can opt for any pastel-coloured latex balloons to create a balloon backdrop with a classy, funky, and colorful look. A balloon-covered wall using different sizes of balloons of a single colour theme palette can also give the wedding ceremony a stunning look.  You can also choose to give the traditional chandelier a colourful vibe by setting up a balloon chandelier at your wedding. A huge balloon chandelier hanging above will give the space a spectacular look and will undoubtedly leave your guests in awe.
2. Flower Girl Balloons
Little flower girls look cute as they walk down the aisle sprinkling flower petals on the way. Tying a bunch of balloons with the message 'Here comes the bride to the flower basket can be a great alternative as kids love to carry balloons and it will also make a pretty sight. The balloons will keep the little ones happy throughout the event and all the guests will enjoy the precious moment during the wedding function.
3. Send-Off Favors
At most weddings, the bride and groom are given a send-off by showering typical rose petals at the newlywed couples when they walk out of the ceremony. As a new and unique way, ask balloon decorators in Bangalore to release balloons in the air as the couple leaves bidding them goodbye.
4. Photo Props
Wedding pictures are memories of a lifetime. The backdrop used for the wedding ceremony or as a photo booth should have a colour palette that coordinates with your theme. A monochromatic balloon setup makes for an amazing backdrop for your wedding pictures.
5. Reception Table Numbers
Specialty balloons also come in the form of giant numbered balloons and are available in different shapes and sizes. Use the balloons to number the tables to help guests locate them from afar during the reception.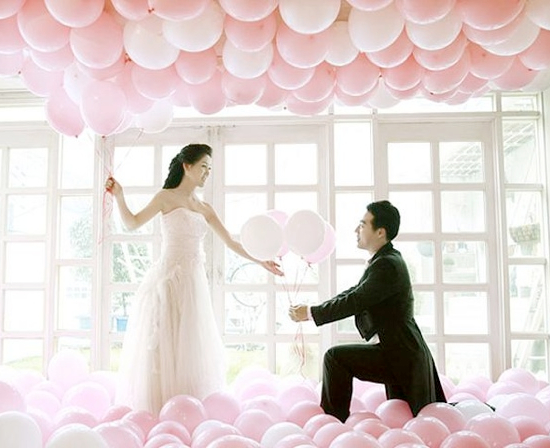 6. Cake Toppings
Bring on some unique twist to your cake-topping with miniature balloons. Ask your cake designers to decorate it with some balloon toppings to add some fun touch to your cake, making it appealing to everyone present at the reception ceremony.
7. Car Decorations
Car decorations with balloons have always been a very traditional and popular method of sending the newlyweds off post the wedding ceremony. Tie colourful balloons or 'Happily Married' "Mr. & Mrs.' message balloons on the tail of the car to bid them farewell for their happily ever after.
8. Escort Cards
Welcome your guests with escort cards in an all-new way through this beautiful idea for wedding ceremony balloon decoration. Tie a personalized balloon to their respective escort cards which they can carry to their seats.  The guests can be part of the fun of finding their seating and later tie their balloons to their chairs.
If you too require wedding balloon decorations in Bangalore, then get in touch with Book My Balloons, by calling 8088880011 or 8088880022 for our latest products and services. Visit us!