In the past, balloons were mainly used just as a tool for children's entertainment, but with times, there has been an evolution in their application, variety, and quality. Balloons have made their niche worldwide as part of celebrations, fairs, festivals, and corporate events.
The huge online market for balloons has made it easier for customers to avail themselves of offers like discounts and free shipping. From Valentines and Thanksgiving to Halloween and New Year's, numerous online websites run seasonal campaigns, offering different sized and shaped balloons as per the occasion.
From balloon game ideas to innovative craft ideas, regular balloons can be utilized in numerous ways to make some stunning pieces. Most of us use balloons the traditional way but there are some interesting ways to turn normal into extraordinary. Let us look at the things to do with balloons so that you can try out a few DIY ideas.
Make Balloon Pumpkins for Halloween
Balloon Pumpkins are one of the fun DIY Balloon Crafts ideas that are relatively inexpensive to make. Select orange balloons that are round in shape and start by adding some candies to the balloons to add some weight before inflating them. Tie the balloons on top once fully inflated. Next, paint some scary faces over them using black markers or sticking black paper cuttings.
Decor Shape
Buy balloons in bulk to create shapes or messages of your desire. Inflate the balloons and arrange them on the wall in the shape of a heart or any other fun shape. You may create simple balloon sculptures and decorate the room as well.
Frozen Balloons
One of the smart and fun trends is to use frozen water balloons to keep beverages cold. To make frozen balloons, first, fill the balloons with water and then freeze them for at least four hours. Just before the party, place the frozen balloon decorations along with the beverages to get them chilled.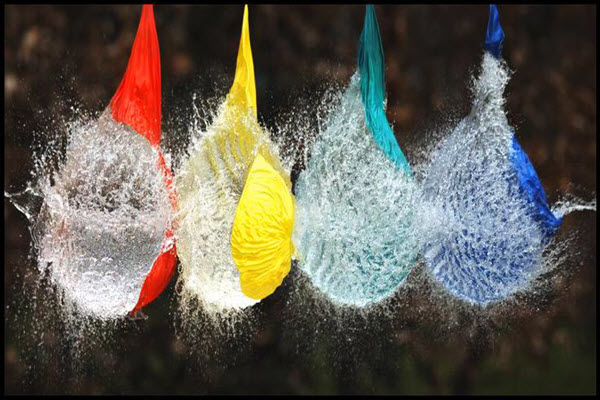 Balloon Cake Toppings
This one is a quirky and new idea that most of us would have never heard of. Blow some small balloons and tie them on sticks and decorate them as cake topping making them look colorful and funky.
Photo Booth
You can easily create a photo booth for your little kids' parties with balloons. Bring a giant-sized balloon and tie it on some chair or basket and make your kid sit inside it for the cutest pictures ever.
Bud vases
One smart way to add a pop of colour to your bud vases is to use colourful balloons over them. Take old bottles or cups, stretch a colourful balloon from the bottom to the top and tie it in a knot. Make small holes on the top to make an opening to hold your flowers.
Place Settings
One of the best ways to decorate your table is to use balloons for guest seating arrangements! Set the table and plates, then tie the name slips on balloons and fix them next to the plates. This will help the guests find their seats easily.
If you too have any balloon requirements, then get in touch with Book My Balloons, by calling 8088880011 or 8088880022 for our latest products and services. Visit us!