Balloons are no longer used only as part of party décor. It can be used as a utility item at home or as a life hack to make things easier. By making different uses of balloons, it helps to know that alternative uses at home saves time and discomfort.
1. Balloon as Glass Marker
One of the most common issues during a get-together or party is when people mix up their drink glasses since they all look alike. It may so happen that your drinks might get lost amidst the crowd or your soft drink glass getting exchanged with other drinks by mistake. To avoid the mix-up, use a colored balloon to cover the base of your glass. The colored balloon turns into a marker to identify your drink immediately and also gives your glass a unique look.
2. Balloons to Customise Computer Mouse
There are many creative ideas using balloons. Decorate your computer mouse with a colored balloon and give it a unique look. The balloon gives the mouse a personalized touch and also gives a better grip. To decorate the mouse, first take the top cover of the mouse. Slip on a balloon with the color of your choice and slide the top cover back on to fix it in place. The mouse is now customized.
3. Lampshade
There are many lampshades available in the market but how about creating one at home? This may sound crazy but all you need is a balloon, a bundle of colorful yarn or string, and some wallpaper glue. Use balloon creative ideas to create a lampshade by first inflating a big-sized balloon. Soak the string into the bowl of wallpaper glue so that the string gets completely covered with the glue. Next, take one end of this yarn and start wrapping it in the crisscross pattern over the balloon. Once the string covers the top dome of the balloon, done, let it dry. Wait for 3-4 hours, and once it's dry, pop the balloon to free the dried strings as a dome-shaped lampshade. Use it on the lampshade stand by inserting a bulb or as a bowl with some glowing stick inside to light it up.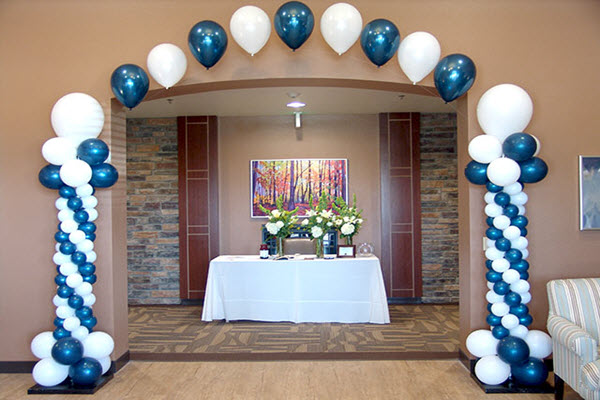 4. Refurbish Old Chair
Give your boring old chair a lease of new life. Use balloon decoration ideas, and just roll some colorful balloons over the legs of the chairs that you want to decorate. When you cover all four legs to give your chairs a completely new look.
5. Create Your Toy Gun Using Balloons
Make use of a pipe, or a disposable soft drink bottle and cut them into the shape of a bottleneck. Next, cover the wider top portion with a balloon by sliding a balloon over the neck and tightening it up using electrical tape. Use some little pebbles, stones, or marble pieces to make bullets for your gun. Your all-time toy gun is ready to strike the target.
Given above are some of the alternative use for balloons to decorate household things around you beautifully. Get in touch with www.bookmyballoons.in or visit us for all event-related services. We will be happy to help you with our expertise in implementing decorations with perfection and on time.