Whenever we celebrate happy moments, we pray for their happiness. If we gather to grieve someone's passing, we wish that our prayers reach the almighty in heaven. As a symbol of these emotions, prayer party balloon decorations have become quite popular for such events. Read on to find out more.
Baby Shower
Baby showers are meant to pamper the mother-to-be and wish for a safe birth of the newborn. Family and friends come to cheer the parents-to-be and wish for their good health. As a part of the baby shower, you can call prayer party balloon decorators in Bangalore to decorate the baby shower venue for your soon-to-be-born baby and give your baby a heart-warming welcome.
Create paper hearts with a hole punched on the top and hand it to your guests to write a message for the baby. Once everyone writes their heartfelt messages, ask them to attach the paper heart to an inflated balloon. Get everyone to read their messages one by one to send out positive vibes at the party. Once everyone finishes reading, gather everyone around and release the balloons together in the air as a form of prayer to the almighty.
Paper Message on Balloon
Similar to heart-shaped paper cut-outs, you can create beautiful paper designs in different shapes and sizes. The shapes can be according to the occasion that you wish to pray for. For e.g. For a baby's baptism after-party, you can create baptism party balloon decorations and ask guests to write some unique wishes and prayers for the baby's well-being. You can paste the paper cuts on the inflated balloons and ask your party guests to hold the balloon and read their own messages. Later release all the balloons in the air and let your prayers reach the heavenly bodies.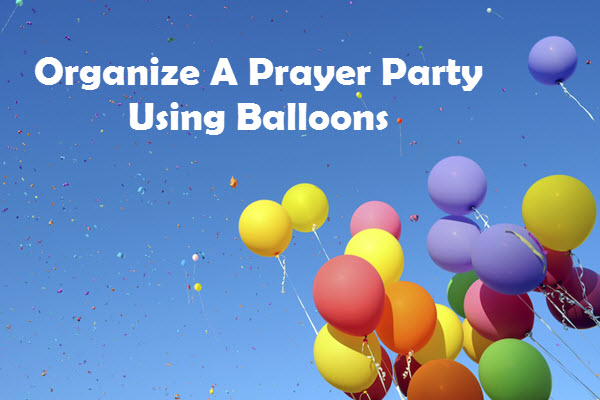 Newly-Wed Couples
After a wedding takes place, newlyweds usually offer prayers to God and ask for blessing their union in matrimony. To mark this moment, make use of prayer party decoration ideas with the help of helium balloons, a piece of paper, and a pen, and ask the wedding guests to write down their prayers or wishes for the newlyweds. Just after the wedding rituals or at the reception, gather your guests together to read out all the wishes before tying them onto helium balloons. Set the balloons in the air in a celebratory manner, sending the messages symbolically to God.
Balloons are generally associated with children, but they are now being widely used for many unique purposes. Hope you will use the balloon decoration for a prayer party at your next event to seek the almighty's blessings.
Get in touch with www.bookmyballoons.in or visit us for all event-related services. We will be happy to help you with our expertise in implementing decorations with perfection and on time.