Indian weddings are one of the most cherished moments in everyone's life that hold a special place in the heart. Most people hire planners for balloon decoration ideas for an Indian wedding. The planners generally charge for the services offered to take care of the décor, venue, food, and putting together the special moments. If you intend to use some tips, read through some of the proven and incredible Indian wedding balloon decoration ideas that can help you create beautiful memories of your wedding.
1. Balloon Décor at the Wedding Hall Entrance
Balloons are one of the most affordable and colourful ways of decorating any event. Use colourful wedding party balloon decoration supplies to create an impressive design at the entrance that welcomes the guests. Customize setups using different shapes and sizes of balloons as per the needs and requirements of the event organizer. Be creative and add streamers with balloons to make the entrance beautiful.
2. Balloons for Stage Backdrop
The main stage where the couple will sit and complete some rituals should be decorated with a beautiful colorful backdrop. An entire wall of colourful balloons can make for an exciting backdrop and act as a photo booth. Colourful and metallic balloons make great wedding balloon backdrop ideas. Backdrops like a balloon arch for wedding events or celebrations can add to the fun. Create a balloon wall in an area where the guests can click their pictures and capture their memorable moments on camera.
3. Balloon Centerpiece
Decorate each table with a balloon centerpiece containing the name of your guests sitting there. The names can be engraved by the decorator before the balloon is inflated. Alternately, the balloons can be hung around the table. The personalized centerpiece decoration will make your guests feel special and make their day memorable.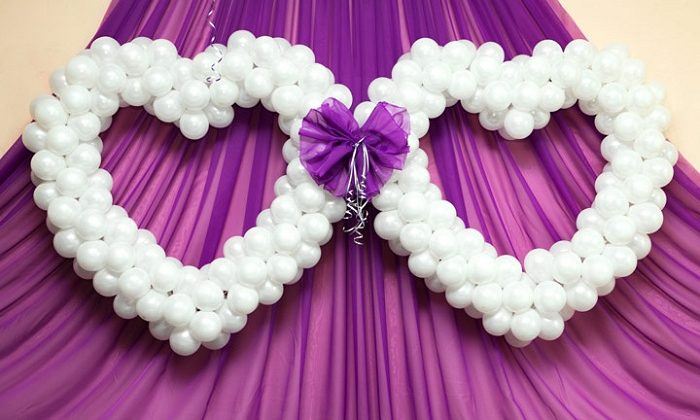 4. Balloons for Ceiling Decor
Balloons on the ceiling could be all the decor you need for any event, especially in the case of wedding events. The attached curling ribbon streamers give it a classy look. The look of the ceiling can differ as per the choice of balloons. Different colours, textures, and patterns of balloons will work as various themes. You can reach out to wedding balloon decorations suppliers in Bangalore for your requirements.
Above are some of the smart balloon decoration ideas for Indian weddings. Hopefully, you found this information useful and consider implementing these ideas to make your Indian wedding event, a grand success.
Get in touch with www.bookmyballoons.in or visit us for wedding balloon decorating ideas or other event services. We will be happy to help you with our expertise in implementing decorations of your choice with perfection and on time.