Holy Communion is an ancient practice followed by devout Catholics to consume a piece of bread and a sip of wine, offered by a priest in the church. The bread and wine represent the body and blood of Jesus Christ and participating in Holy Communion expresses their desire to let Jesus into their hearts.
First Communion is often celebrated as a religious ceremony for children of about 7 or 8 years of age. It is an important day for Catholic children as it marks the first time, they will be receiving communion.
The 1st Holy Communion Party is celebrated with utmost zest. If you are planning to celebrate your child's first communion, then we are here to share a few first communion balloon decoration ideas:
1. Symbolic Centerpiece
To celebrate the occasion, use inflated balloons to create a cross or a chalice. These balloon sculptures can be used as centrepiece representing the first communion. You can use a mixed combination of blue-white or pink-white balloons to create the design. The metallic balloons will also give an elegant look to the centerpiece.
2. Cross Balloons Pillars
Decorate the entrance of the venue using colourful first communion balloon arch decoration. You can create a cross out of balloons and place it at the top of the entrance to add significance to the occasion.
3. Table Balloon Decor
Inflate colorful balloons and hang them in a small bunch over the center table for every guest. To ensure a personalised touch, you can write the name of the guest and surprise them with this fabulous decorative idea.
4. Glowing Balloons Decor
As the host, you will need to make the venue look special, especially for an evening celebration. You can make use of small glowing sticks inside the balloons to create an amazing first communion balloon backdrop. Inflate the balloons completely to see the magical effect of the glowing sticks in your party area.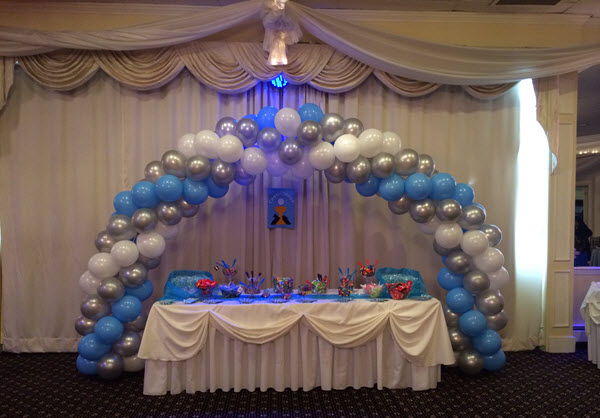 5. Balloon on Return Gifts
As the event concludes, you may get the return gifts ready that you intend to give your guests. A sweet idea would be to hang colorful balloons over the gifts, and if possible, personalize them. As the guests get ready to leave, hand them the gifts and leave them smiling at the sweet gesture.
Mentioned above are some of the smart ways to decorate your first communion event using balloons. Regardless of whether you're arranging a small and private event for your family, or throwing a big celebration for all your near and dear ones, first communion balloon decoration party suppliers in Bangalore can arrange for all the requirements.
Get in touch with www.bookmyballoons.in or visit us for event-related services. We will be happy to help you with our expertise in implementing decorations of your choice with perfection and on time.