Every girl loves to be treated like a princess, especially on her birthday. To make this dream come true, create a princess party balloon decoration ideas fit for a royal. As part of the theme, design a princess carriage balloon arch on a table to carry your precious daughter into the venue and surprise her as well as the guests. Read on to understand how to create a balloon carriage fit for your little one.
The most important element in the carriage is a table that would work as the main base of the carriage to carry your little girl. You may choose a circular or rectangular table and drape it with a shiny cloth as per your chosen theme colour.
Next step is to inflate balloons and create 2 long princess carriage balloon arches. You can change the style of the balloon arch decoration as per your choice. Connect one end of the arch to a corner of the table and attach the other end of the arch to the diagonally opposite corner. Likewise, decorate the other two corners. Allow these arches to meet at a central point above and tie them at the centre to create a canopy.
Attach two wheels or rims made out of balloons or just chart paper to the base of the table similar to a carriage. The wheels will give a realistic look to your design.
There are many balloon carriage decoration ideas to choose from. Use colourful or metallic balloons to make your arch as appealing as possible. To add more glamour, you can add curly streamers to the balloons or write the name of your princess on the carriage with balloon letters.
When the party has begun and it's time for your princess to make an entry, place your darling daughter on the table. With a smart princess dress, your little one will look like a real princess coming in a carriage.
Once you enter with the carriage, ensure you carry your daughter all around the venue so that she can greet all her guests. This will make your daughter feel special and the centre of attention at the party.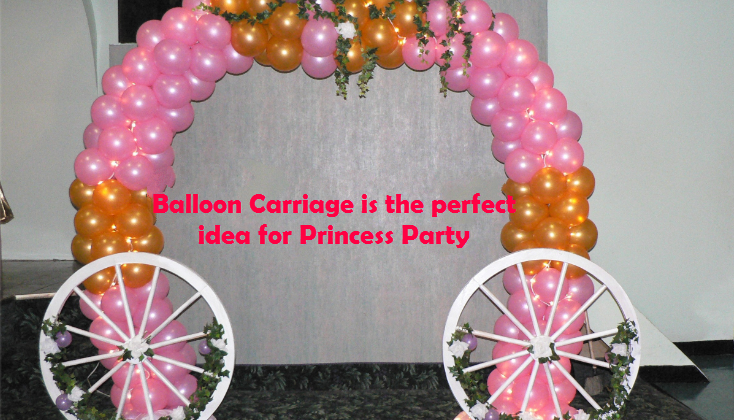 Daughters are the most precious gifts and it's important to make them feel special on their special day. Whether it's a birthday or a wedding, a princess carriage balloon decoration in Bangalore can help create a balloon carriage to carry little girls as well as a bride from the entrance area to the venue.
Get in touch with www.bookmyballoons.in or visit us for event-related services. We will be happy to help you with our expertise in implementing princess party balloon decoration ideas of your choice with perfection and on time.