Huge Ideas To Decor Balloons For Christmas 2017
Christmas is coming up. You might have started planning for this special day. Just like last year's celebration, if you want to make this Christmas celebration, the most memorable one, there we are here with some of the best ideas to decor balloons for Christmas. Hopefully, our huge list of ideas will take your celebration day to the unimaginable heights of success.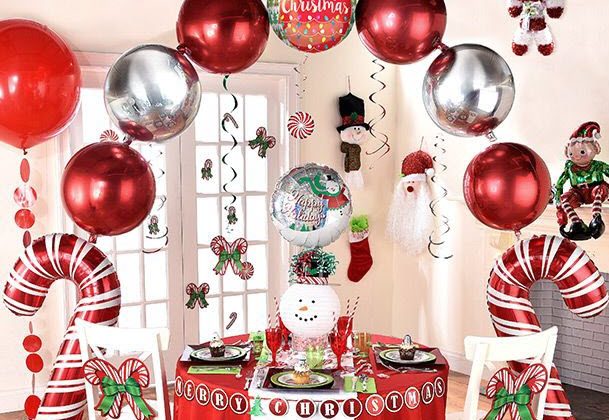 All of these ideas are not only to make by they are easy and good enough to leave your friends and guests surprised with your creative skills. You might have used balloons in different ways. Today, we have come up some of the astonishing ways that would leave you speechless.
Balloon Lights
Well, this may sound a bit strange but making balloon lights is easy. You can décor your Christmas party area with these balloons. If you are throwing this Christmas outdoor party with innovative ideas then your event is going to be a grand success.
To create balloon lights, you can use glowing sticks and place them inside the inflated balloons. Let them glow in the dark and enjoy your day to the fullest. Mini glowing sticks are available in the market that lasts up to 12 hours. This duration is good enough to lighten up your party.
Lightened Balloon Pillars
It is another way to brighten up your day. You can inflate giant balloons and insert glowing sticks inside them. Arrange them in a row so that everything appears to be organized beautifully. Now you can hang some sweets and chocolates to the pillars and let children enjoy those sweets and chocolates. Ask them that the sweets have been gifted by the friend Santa.
Flower Animal
Christmas is a day of celebration and enjoyment. Especially for kids, this day means a lot. You can create some colorful flower balloon animal and give an amazing surprise to the little eons. If you are new to flower animal, then we must tell you that it is quite easy to make and anyone can make it.
You just need to go through some of the YouTube videos where artists have shown their art of creating flower animal from balloons. You can use the same method and come up with colorful flower animal balloon for the kids.
Poodle Balloon Animals
We must say making Poodle Balloon Modelling is not the game for beginners. You need to have some proficiency to make these balloons. If you have tried flower animal balloon and you think you are good enough at balloon-making art then go for the poodle balloon animals as well.
Hat Balloons
Your Christmas day is special and becomes more special when you plan and organize the event will full zest. Making hat balloons is one of the best ways to make your party interesting and engaging even for the guests as well.
 
Wrapping Up
Above are some of the best yet huge ways to décor balloons for Christmas. Hopefully, you find these attractive and consider them while decorating your day.