Balloons are something which can be associated with joy, happiness and cheerfulness. Any festive occasion needs balloons. There are so many things which one can do with balloons those are not possible with any other decorative material.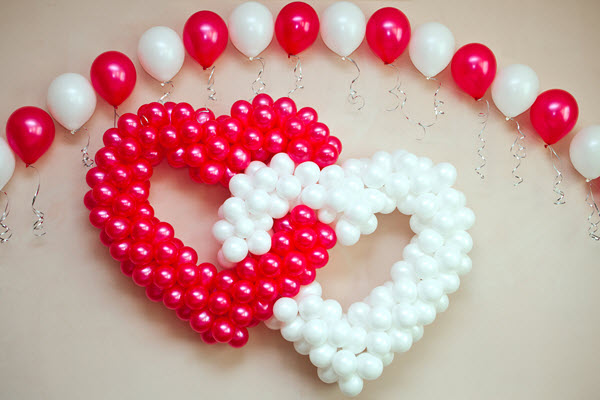 Celebrate Valentine's Day With Balloons
Balloons can be in different sizes, shapes, color and material because of which there is unlimited scope to play around with them. You can bring your creative instincts out easily because of balloons.
Valentine's Day is one such day where you can try to be more creative so as to make the event more special.
Nothing can replace the Heart shape balloons. You can decorate the entire home with heart shape balloons of different sizes which will be in red color.
You can invite your partner for balloon bouquet. Instead of going to restaurant you can go to a picnic spot and tie balloons to an area. This will be a preplanned activity. It will surprise your partner a lot.
Build a mini forest of balloons in the room with some balloons floating and some balloons on the floor.
Arrange a set of balloons which will be floating on the center of dining table. There can also be mini balloon placards. This will make the table look more elegant.
Write personalized message on the balloons or inside the balloons. Ask the partner to burst it to read the message.
Build an arc on the door and ask your partner to make the entry through the arc. These arc can be made of balloons.
New 2 balloons which are interwined in each other can be stuck to the wall. You can write the name of you and your partner on it.
You can stick a big heart shape on the wall and inside it you can stick all memorable pictures of you and your partner. This will give a nostalgic feeling and make your day more memorable.
It is not necessary that everything should be heart shape. If your partner loves something than you think of a particular think and wish him/her. If the partner is a foody then then you can decorate the house in the shape of donuts, fruits cake etc. If the partner likes animated characters then you can stick pictures of animated characters on balloons.
There are balloons of different shapes and sizes available in the market. You can prefer flower balloon bouquet and surprise your partner.
You can have a jumbo foot hot air balloon outdoors which can be lit and released up in the air. You can write the name of the partner on the balloon and ask him/her to release. This will give a more 'Grand' feeling.
You can also have heart shape balloon with the name of the partner pierced inside it through arrow or there can be a cupid in the shape of balloon.
There can be more creative ideas which you can execute. Nowadays you can also take the help of expert event managers who deal in balloons. They can work on your behalf and make the event more happening.