Confetti is tiny pieces of colorful streamers made out of mylar, paper, or metallic materials used for throwing at fun events like parades and weddings. Confetti balloon party ideas add the wow factor to any confetti as it creates a stunning backdrop that will amaze your guests. Filling a confetti balloon can get very tricky. We are happy to guide you through the steps of confetti balloon decoration tips.
Step 1: Inflate Confetti Balloons with Air
Inflate the balloons with a few puffs of air from a balloon pump as the warm moist air from your lungs can also result in condensation inside the balloon and make them cloudy. Next, let the air out and fill the balloon with confetti. Refill the balloon with some air and then attach it to a helium tank to pump up the rest of it with helium gas until the balloon looks clear and transparent.
Step 2: Ensure Balloons Are Stretched & Tied
The partially inflated balloons look cloudy as their latex is not stretched enough. Avoid over-inflating as the balloon will burst. Once the balloons are well-inflated, make a knot at the end of the balloon to seal the air within. Secure the knot tight.
Step 3: Disperse The Confetti
Once the balloon is tied, check if the confetti has spread evenly on the inside walls of the balloon. If not, shake the balloon and rub its sides with a natural fabric to create static, allowing the pieces to cling evenly inside.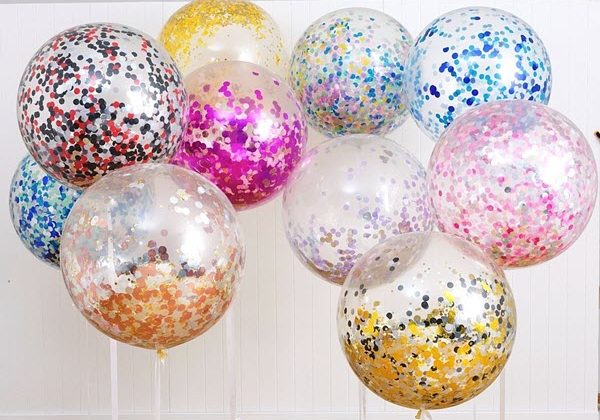 Important Tips
Always inflate the balloons with a balloon pump.
Note that it's always best to use a mixture of helium and air while filling up a confetti balloon. Initially, pump it with air and fill the rest of the space with helium.
At first, these balloons might look a bit hazy in color, but once filled with air; they look transparent.
Don't use hi-float as it gets the confetti wet.
Confetti adds weight inside the balloons, thus giving a shorter float time. Inflate the confetti balloons as close to the confetti balloon theme party decoration as possible.
Changes in temperatures and humidity can reduce a confetti balloon's float time. The balloons may deflate slightly in cold air, whereas excessive heat can cause the helium to expand and burst the balloon. Ask your balloon suppliers in Bangalore to keep the balloons in a room with an even temperature.
Get in touch with www.bookmyballoons.in or visit us for confetti balloon decorators in Bangalore and any other event services. We will be happy to help you with our expertise in implementing decorations of your choice with perfection and on time.