The festival of Christmas stands for spreading joy, happiness and fun to all the people. It is a day when everyone celebrates the good things in life. People prepare sweets and Christmas cakes. People decorate the house and build a Christmas tree.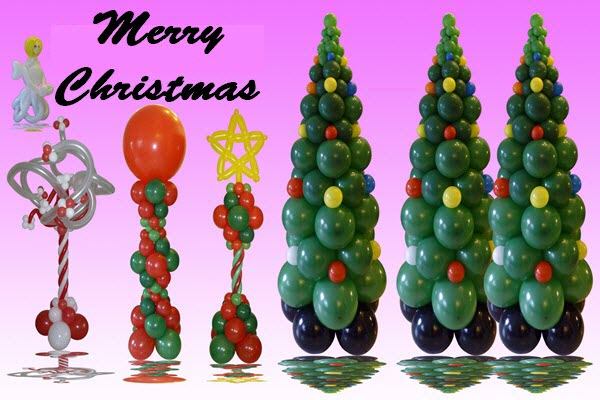 Balloons bring in special joy in the faces of people when they see it. They change the look of the place totally.
So why not celebrate this Christmas with balloons? It is a decorative item which is unique and can bring out the creativity inside you.
Top 10 Ideas To Celebrate Christmas With Balloons:
Many children anticipate gifts from Santa Claus during Christmas. One idea can be to decorate the room of kids with balloons when they are sleeping. They will be surprised and happy to see the balloon decoration when they wake up. Their entire room can be decorated with balloons which will be stuck on ceilings, doors, cupboards etc.
Second idea can be to launch an avalanche of balloons by stuffing them inside the cupboard or room. So when one opens it, all the balloons will be coming out. People will be shocked and surprised to see so many balloons falling over them all of a sudden.
Christmas celebrations can happen by choosing customized balloons with colors like white and red. The entire house can be decorated with white and red color balloons to bring out the festive mood.
A Christmas tree built entirely out of balloons! How does that sound? It will really exciting and thrilling experience to see such a kind of thing. You will feel more proud to even show your creative piece to others. Apart from Christmas tree you can even design a Santa Clause with balloons.
Make a flower decoration by sticking 5 balloons together. It is the most easy and quick method for decorating anything.
Stick some glossy material or draw some cartoons or personalized messages for your loved ones on the balloons. This can be done by purchasing plain white balloons. You can even draw some graffiti on it.
Make the ceiling of your house look more attractive by sticking balloons at the center and then connecting them with some table cloth materials to all the four sides of the house. This will make your house look 'Grand' and special during Christmas.
Invite your guests during Christmas and make them walk through a giant aisle all made of balloons. It will make them feel special.
Make some Ice cream cone balloons and give it to children for playing.
Make a balloon arch of different shapes with the help of sticks.
There are even more good ideas which can be executed depending on your budget and time availability. You can even take the help of event specialists who can decorate the house for you.
Nowadays, you can even order balloons online which can be of different shapes and sizes and colors. They can also be of different materials most popularly – 'Helium'. Any types of balloons will be at your doorstep at just the click of a button.