Corporate events are professional events, and everybody likes simple and formal decorations, or not at all. But the beauty of balloons is that you can use them at any occasion you want to. So let me tell you 5 ways of using balloons at corporate event, which won't look informal and too lively. These plain and simple ways can make your event a success and everybody will ask you how did you get this idea?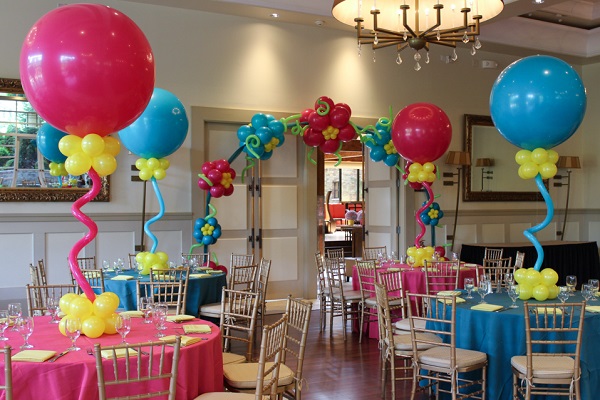 1. Entrance is the first impression. At the reception, you can just use two balloons, on the attending table, in order to just give a look that some event is going on. This won't look informal, and will do the purpose of making a good entrance. But don't just paste too much balloons, keep it simple yet noticeable.
2. Corporate events are incomplete without drinks. So you can add some extra touch there, by using balloons. But don't use too much, it will ruin the ambiance of the bar. Use it till they look simple and sober. You can paste them at the starting and the end of the bar attending shelf. You can highlight good drinks by tying balloons to them. Overall, you can try little things, but don't go over the board.
3. Live performances by some artist, like jazz or blues are common. So you can try to decorate stage with balloons, by tying them on the corner, or at the platform. You can paste them anywhere on the stage, but don't make musicians uncomfortable. And as usual, don't use plenty of them, just the right amount.
4. You can just surround the dinning place with some balloons, it will look great, and people will like it. But just give the touch only. You can place near the desserts, or the water table. These place are noticeable, and just the glance of balloons, are going to make a good vibe.
5. The table where the gifts are going to be placed can be decorated with some balloons, at the corner, along with some ribbons, you can try some innovative ideas on it, as it is the gift table, it needs to be good and eye catchy. You can use balloons in the above mention ways. The corporate events are more like professional and formal. So just try to give some touch of balloons only, too much will ruin it. These ways are best for using balloons, without making it over the head. You can try some innovative ideas, if you have any. But
I think, there is nothing you can do more when it comes to corporate events. So use less imagination and more simplicity. Everybody is going to love it if they're used in correct way. I think you got the idea. I hope you organize a good corporate event.